"you look...dusty." happy as a filled-in blank i tell you. statistically delicious. you can have my walls when you pry them from my cold dead peripheral vision. & there's me switched into grinning-idiot mode for an incongruously rosy future. lead us not into temptation? you're WALLOWING IN IT. permanent midnight in the garden of good & two-shoes.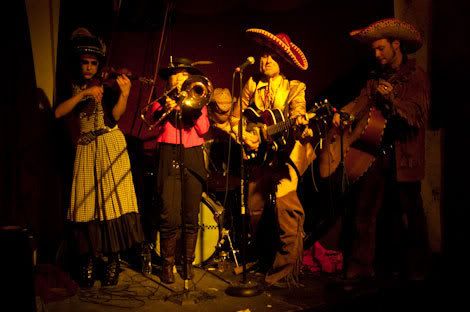 [the illustrious & fabulously costumed mickey western band]
this picture was taken the night i dragged my unblinking self from station to station up & down impossible stairs white-knuckled gripping the rails having left my eyelids somewhere on gates avenue. putting on my makeup in the mirror watching my pupils migrate to opposite sides of my eyes, disinterestedly.
but you can't tell
. DEATH'S DOORBELL: RING & RUN. this was also one of the best shows i've ever done, by all accounts? better living through chemistry, right, hazardous materials with hidden agendas. walk like a public service announcement talk like a menace to society. stand up fall down repeat as necessary before you finally learn your lesson. these things don't happen too frequently & we could be here all night. in fact we have been. what's your excuse. getting more full of holes than my plotlines. mayday mayday
preternaturally relaxing weekend later aboard schroedinger's bus to the frozen north, fireplace basking & all was however temporarily right with the world. fast-forward button is back on but it's ok i'm becoming one with the evidence. you can pay in cash, credit, or attention. you are the sum of the sleep you lose. THERE IS NOT / THERE WILL NEVER BE anyone on the other end. ground control called, they said they quit. in a voice strangely like my own. funny how that works funny how i don't, life lived as an out-of-body experience is imminent because one of these days the way back in will have occluded entirely "while i was out." this isn't just a parade of deadlines it's a veritable beauty pageant of the fuckers, watch them twirl, bat deadline-eyelashes, & perform while your own life inexorably climbs the scaffold. my, what big problems you have! the better to bore you with, my dear. i make sheep's clothing look damn good.